Laboratory and Process Analyzers
Automatic Analysers → NewLab Range • OilLab Range • Thermofat • OnLine Range
Filterability of Lubricating Oils • Ring and Ball • Foaming Tester • Oxidation Stability • Evaporation Bath • RBOT & TFOUT • RPVOT • Noack • Air Release • Pensky Martens • Leonardo Pensky Martens • Golleo Abel+Pensky • Aniline Point • Penetration • R.E.C.C. • Abel • Cleveland • Tag • Tag - 6901 • ASVP • Reid Vapour Pressure • Ductilometer • Herschel Emulsifying • Copper Corrosion of Electric Vehicle Fluids • Saybolt Viscometer • Distillation
---
OilLab 580 - Noack
ASTM D5800
CEC L-40-A-93
DIN 51581
IP 421
JPI-5S-41-04
NB/SH/T 0059
---
Subject
Determination of the evaporation loss of lubricating oils (particularly engine oils).
Procedure A uses the Noack evaporative tester equipment.
Procedure B uses the automated non-Woods metal Noack evaporative apparatus.
---
Measuring Noack Principle
A quantity of 65 grams of sample is heated to a specific temperature and maintained for 1 hour while it is enclosed in a crucible, the crucible's cover is shaped to allow a constant vacuum of -2 mbar to remove from the crucible the evaporating portion of the sample.
At the end of the test, the sample is cooled and then reweighted: the difference, reported in percentage, represent the sample's Evaporation Loss by the Noack Method.
Method A: bath is controlled at 250°C.
Method B: the sample is controlled at 245.2°C.
Measuring Temperature Probe
Platinum resistance PT100 class A
Accuracy 0.15° C and resolution = 0.01° C
Temperature probe is fixed on the test cup by mean of the locking device
Measuring Parameters
Temperatures: in °C
Testing range: +225°C to +275°C
Measuring range: 0°C … +320°C
Resolution: 0.01 °C
Accuracy: ± 0.1 °C
Repeatability / Reproducibility: according ASTM D5800 or better
---
Electronic regulator for automatic control of differential pressure
Differential pressure 20 mm ±0.2 mm H

2

0
Crucible, Crucible Cover and Heating Block
Same dimensions and volume as ASTM D5800
Electrically heated new designed aluminium block, no Woods metal needing
Heating unit
Electrical resistance, 500 W
Vacuum Pump
Equipped with high resistant Kalrez valve, inlet filter to remove product residuals
Automatic electronic control system able to maintain the pressure differential 20 mm ±0.2 mm during the analysis
Low voltage power supply
---
Integrated Touch Screen Panel PC
TFT/LCD 8"
Resolution 1024 × 768, 16.2 M colours
2 USB ports for connection to an external printer and/or external PC
Storage capacity for more than 60'000 analysis
Lin-Tech operating software Lab-Link running in Windows ambient
Automatic reading of the weight suggested balance LT/B-2470/BCA500 INT- CAL
---
Software Features
All analytical parameters recorded
Customizable analysis parameters and methods
Customizable results report
Printable graphs and results
The software includes:
Analysis Menu
Standard method as per ASTM / IP / ISO / EN / DIN… norms of reference
Unknow sample
Audible alarm and displayed messages at the end of the analysis and in case of errors and/or malfunctions
Diagnostic Menu
Direct access to all analog, digital, inputs and outputs
Selectable value displaying: °C / Volt
Calibration Menu
Automatic calibration of each temperature probe
Last calibration date referred to each single probe displayed and relative data printable
Display of calibration diagram
Insertion of offset values
Data Utilities
Fields for introduction of operator and product name
Archive viewer for files recall
All analysis stored in Excel® compatible format
Storage capacity for more than 60'000 analysis
LIMS compatible
---
Dimensions
Length 400 mm
Width 450 mm
Max. height: 450 mm
Weight
---
Electrical Supply
220V ± 15% / 50 to 60 Hz
115V ± 15% / 60 Hz
Cord cable
3 conductors flexible cable 2 m (7 feet) length with PVC sheath oil and heat resistant as per CENELEC directives
Ambient Temperature
---
Accessories
LAB-580-1001: glassware acc. CEC L40-A-93, 1 complete set comprising 2 glass bottles 2 litres capacity, with the necessary rubber bungs, glass delivery tubes (internal diameter 4 mm) and silicone tubings
LAB-580-1002: stand for glass bottles, including inclined manometer 0 to 50 mm water and Fresenius column
LAB-580-1003: evaporation crucible
LAB-580-1009: Noack reference oil, 1 Ltr
LAB-580-0010: Noack software evaluation tools
Spare parts
LAB-580/008-12: PT100 sample
LAB-580/11-01: silicon tubing 2 m
LAB-580/013-02: air filter
LAB-580/007-01: main electronic board Noack
LAB-580-1003: evaporation crucible
LAB-580-0011: hook wrench
LAB-580-0012: pliers
LAB-580-0013: crucible holder
LAB-580-0014: test balls (pack of 10 pcs.)
LAB-580-0015: nozzle cleaner
LAB-580-0016: gloves
LAB-580/006-03: main electronic board
LAB-580/05-23: heater
LAB-580/08-14: PT100 bath
Calibration Tools
Oillab 80: calibration decade box – PT100 simulator
Oillab 81: set of connectors and cables for cold range
Noack Tester ASTM D5800 Stand Alone includes
integrated vacuum pump with inlet filter
evaporation crucible for procedure B
10 test balls
nozzle cleaner
crucible holder
protection gloves
hook wrench
pliers
---
Particular attention has been payd to the integrated vacuum pump that is also protected by an inlet filter for residual recovery.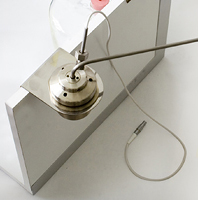 Crucible holder made in stainless steel keeps the cup assembly ready to use.
Protection gloves and hook wrench, high quality materials for safety operations.
With the pliers the nut of the crucible cover is accurate and easily fixed.
---
Linetronic Technologies SA
Via Onorio Longhi 2 • 6864 Arzo • Mendrisio • Switzerland
tel. +41 91 630 07 03 • fax +41 91 630 07 19
email: info@lin-tech.ch